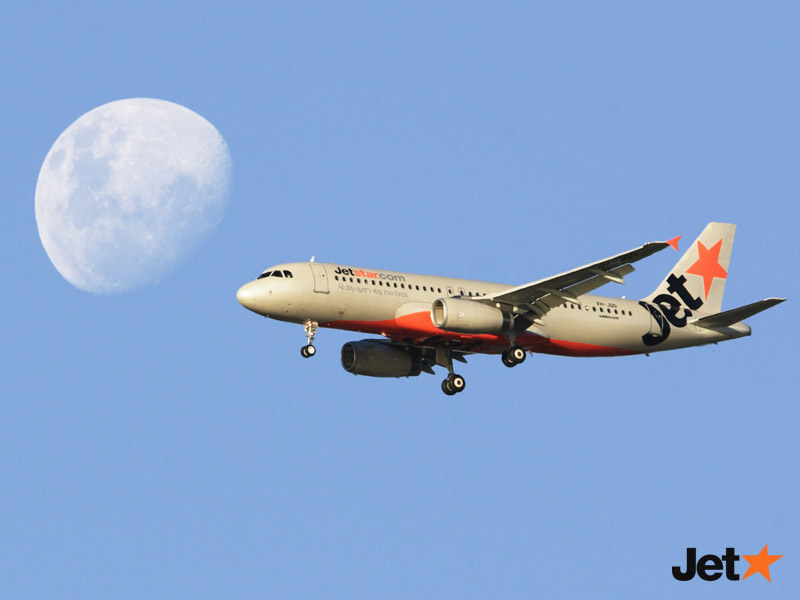 This blog is authored 8486 nm from the departure airport in this week's featured flight plan. All previous featured flight plans were United States based flights. This was for several reasons, accurate flight plans outside the US are hard to come by. This post is a step outside of the ordinary.

In 2004 Jetstar Airways began serving Australia as the low cost arm of QANTAS. Jetstar followed a similar model that United used with TED and Delta with Song. Using a fleet of A320-200s and A330-200s, Jetstar covers 20 domestic Australian cities and 10 international destinations.

One city pair served by Jetstar is flight number 852 from Brisbane to Hamilton Island on the Northeast coast of Queensland. The flight of 478 nm is flown with an A320 with 177 seats and typically leaves Brisbane around 10:30 in the morning and touches down on Hamilton Island an hour and forty minutes later.

The departure from Brisbane to the north, climbing out over Moreton and Bribie Island takes the A320 out over the Pacific. When passing the Sunshine Coast, the Airbus narrow-body turns north-northwest over Intersection CORAL and follows the Queensland coastline along high altitude airway Q26. The A320 continues its route passing Hervey Bay and Fraser Island off its right wing and crosses the Burnett River southwest of Bundaberg.

Airway Q26 continues northward directly over Gladstone, giving a distinct treat to those sitting on the right of the aircraft as it flies over Capricorn Channel and Great Barrier Reef Marine Park. The flight runs almost parallel to National Highway One up the coast passing Rockhampton and MacKay.

The largest of the inhabited Whitesunday Islands of Hamilton Island is used almost exclusively for tourism and is a haven for sailboats. The aerodrome chart of the airport even warns, "Caution: Yacht masts may infringe RWY 14/32 approach surfaces." Arrivals into Hamilton Island from both directions are based around the HM (Hamilton) VOR. (RWY 14 VOR Approach, RWY 32 VOR Approach)

The approach to the spectacularly beautiful island has been captured by Darren Howie into both runway 14 and runway 32. Other than Jetstar, Hamilton Island is served by a Virgin Blue 737. A Jetstar A320 was captured here on video (and shown below) on final approach to Hamilton Island. The approach is a kin to the famous St. Maarten approach over Maho Beach. Google Maps even features a satellite picture of the Hamilton Island airport ramp with a Jetstar A320 resting after a flight.



BN Q26 (CORAL LOAFA GLA CAPRI) HM